Firewood Logs Kildare
Firewood types we sell are split up in two main categories that is
Hardwood
and softwood. Most of our
Softwood
tends to be Spruce but also sell some Pine and Larch.
Hardwood logs are further divided into a selection of choices. We sell Beech, Oak, Ash, Birch, Alder, Sycamore, Cherry and Horse Chestnut. For the Full List of Firewood For Sale on our website you can scroll to the bottom of this page. Alternatively you can click here on our Firewood Shop link high lighted in blue.
Beech Firewood For Sale
Beech is our personal favourite firewood for sale here on Kildare logs. Firewood like Beech logs are very dense, hence burn longer than most other logs. They are easily started with a bit of kindling and heat up fast producing a lovely bright slow-moving red flame. We have a large range of Beech logs for sale on Kildare logs in many different amounts and sized logs.
Oak Firewood Logs
Oak logs are known for their high heat output and lovely sweet small. Dense timber like Oak though is a very slow burner so we recommend burning with something little softer if you don't have good draw in your chimney. It is also recommended to burn Oak in a stove as it can spit a little bit.
Uses for Oak
They range from stoves to pizza ovens, smokers and BBQs. Unfortunately Oak comes in and out of stock as it is fairly rare and takes a long time to dry. We try our best though to keep some Oak logs for sale as often as possible.
Alder Logs For Smoking
The logs of Alder are reddish in colour wood that grows relatively fast and strait. It is fairly fast burning and best mixed with harder woods when burning for heat in the home. Alder is very popular with smokers as it offers great added flavours to food such as meat.
Ash Logs For Sale
Ash logs are the most popular firewood in Ireland. Hardwood like Ash burns great, easily started and burns cleanly for restively long period of time. Ash trees also are fairly fast growing making them very popular in plantations for firewood. Unfortunately, ash is under serious threat from Hymenoscyphus fraxineus (Ash Dieback) which is a fungus that attacks and, in most cases, kills the Ash trees. Up on till recently Ash represented most of the firewood crop. For now, there is still plenty of healthy plantations of Ash firewood available for harvesting.
Ash hardwood for open fires
Ash logs are ideal for open fires as they don't spark when they are burnt but also make great logs for stoves. Kildare logs normally have a large selection of Ash logs for sale throughout the year.
Birch Firewood
Birch is one of the best-looking logs when stacked beside your fire. The silver bark of silver birch is divine. The trees tend to grow very strait and relatively fast. As a result, they are a favourite for firewood producers as the logs are easily turned into nice uniformed logs that look great for the customer. It also grows in poor lands such as boggy land where not much else will grow commercially.
Birch burns hot and bright but also a little faster than some of the other hard woods mentioned above. Softer hardwoods like Birch make a great wood to mix with the likes of Oak logs when you use them for stoves.
Ways Of Processing Firewood
Processing Of Firewood
Our firewood is mainly processed using a firewood processor. As a result of using the processor we are able to have the wood fairly evenly in length. This allows us to sort out the timber into different sizes to better fit your stove. We have our logs cut from 20cm logs for small stoves to 25cm and 30cm logs for medium size stoves to our large logs that are 40cm in length.
Kildare logs also cut some logs with the chainsaw these are not as regular as the ones cut with the processor. They make great firewood though as they are from large windblown trees, normally Ash Oak or Beech which are excellent firewood logs.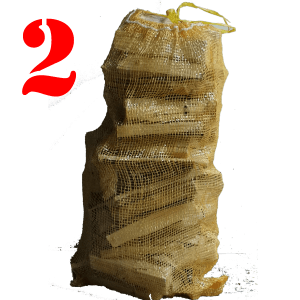 4 Extra Large Kindling Bags
Large bags of kindling Four large bags of Kindling offering great value at just 3.75. Each bag is packed with two and half times the amount found in normal kindling bags. Dry Kindling The kindling is dried to under 20% … Read More
€

15.00
Add to basket